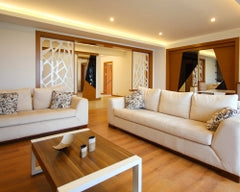 Do you know that you can recreate magic in your home by getting energy efficient LED lights of the right size and shape for the right places? They can create a sophisticated aura and ambiance in and around your home without costing you an arm and a leg.
In which parts of your home can you used LED lights?
LED lights can be thoughtfully and imaginatively used in your kitchen, bathroom, living and dining room, in your garage and even your parking lot. LED strips used inside cabinets and in inaccessible corners of your home add glamour while also making them visible. LED strip lights can also be used on walls to create a shadowy effect which contrasts against light in other parts of the room.
LED downlights and LED can lights can be retrofitted within ceiling fixtures to offer focused light on the floor. This means there will be enough light throughout the room without the glare blurring your vision.
However, choosing the right LED lamps and tubes depending on the lighting requirement of a particular area while also keeping the aesthetics of the place intact, is important and should be prioritized when choosing LED lights.
Some important tips
Living room lighting arrangement with LED lighting
Living rooms are the most used room in the entire house. Getting the lighting perfect is really important as this room is often used as a reading room and drawing room as well. You should try to highlight the center of the room as it is what binds the entire room together. Use strip lighting to give a soft, backlit hue to the inside of shelves if you want particular books or objects highlighted. Directional LED recessed lights can be used to highlight objects like paintings and other art work. Don't overcrowd the space with LED can lights. Get the downlights at perfect angles so that they don't seem too bright.
Bathroom
Why don't you use LED strips on the walls of your bathrooms? If it's an ensuite, it can provide dimmed, feeble light to the adjoining bedroom as well and create a nice mood in the evening. They consume little electricity and can be kept on throughout the night.
LED lights on walls
LED lights can be a perfect solution for wall and surround lighting. It can be used on the outside as well as on the inside. Choosing the right fixture is as important as the right LED lamp since the combination ultimately decides what light reaches you, on your bed or on your sofa. When placed on the outside, they can highlight small portions of the wall to create a nice ambiance while also providing security. LED beacon lights are also useful and affordable.
Conclusion
LED lights can be used innovatively in almost any part of your house, including those like gardens, foyer at your entrance, your kid's room, the balcony, etc. Identify your needs and then consult Polar-Ray to get your best options as well as get a price estimate. You can change the look of your home without going through expensive renovations.