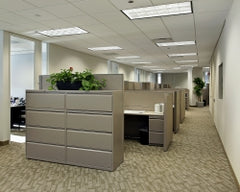 CFL had been the obvious choice for large, commercial projects for many years. It started with T12 lamps and then was replaced over time with T8 tubes. However, the latest entrants have shaken up things and made things much more interesting as it provides far greater energy and cost benefits. LED T8 tubes have a number of advantages.
LED T8 lamps and by extension of the same logic all LED lights offer a huge advantage over traditional lighting sources in spaces that have air conditioning. This is because LED lights produce much less heat into the surface and hence reduces load on your air conditioners.
Types of LED T8 lights
You can choose two different types of LED T8 lights. One is the plug and play or direct replacement T8 LED tubes which can be fitted into the existing T8 fixtures as long as the ballasts from previous T8 tubes are compatible to these new lights. This form of linear LED lighting offers all the benefits of normal LED lights and also other technological advantages. You can also save a lot of money on plug and play LED T8 lights because you don't require expensive rewiring or replacing the fixtures.
The other type of LED T8 replacement tube is the direct line voltage tube which can run without the ballast. Ballasts were necessary for fluorescent tubes since they require high start-up voltage in order to overcome the initial high resistance and also power regulation is not important. However, while retrofitting, the ballasts have to be removed, a fixture cover has to come off temporarily and rewiring may be required. Hence, these can prove to be a little inconvenient. However, plug and play tubes are less energy efficient as there is a small but steady loss of efficiency as the ballast creates a certain resistance. This although small, can add up over time and reduce longevity as well as savings.
Advantages of LED T8 retrofit tubes
Plug and play types are extremely cost-effective since you don't need expensive rewiring or replacements. In general, LED T8 lamps have lower maintenance costs due to higher lifetime and they are also energy efficient. Even for those with ballast resistors, the energy savings are higher than other options.
Since LED lights are extremely focused, they are ideal for directional lighting where you need to focus on particular areas. Almost no light gets dissipated into the surroundings or no energy is lost in the fixture which allows it to perform optimally.
LED T8 retrofit lights have a very high color rendering index and hence the exact color of the light gets revealed. This means better visibility and accurate representation of the shape and features of the object on which the light is focused.
LED T8 tubes have a long life and they are also more resistant to breakage.
LED T8 lights are also less toxic and have a reduced environmental footprint as they don't use poisonous substances.
Conclusion
LED T8 tubes are better in almost every way. They are more convenient, more energy efficient, are more durable and can be dimmed. If you haven't already, start replacing the fluorescent T12 and T8 tubes and lamps with LED T8 for better gains.