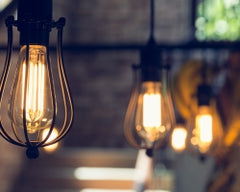 Edison Style LED Light Bulbs - The Stylish Lighting Solution
Are you a fan of vintage style Edison style bulbs? Those delicate glass domes filled with gases and a filament that glows? Does the whimsical, old-worldly, slightly steampunk aesthetic of these lights appeal to you?
Now that this filament style bulb can be emulated by LEDs it has become one of the trendiest lighting products to hit the market in a long time and Polar-Ray.com has a great selection to choose from ranging from standard A-19 bulbs to chandelier style candelabra. We're all about Edison style bulb inspired light fixtures.
Why the original Edison style bulb has truly become obsolete…
Their glass domes, while beautiful to behold, are extremely fragile, and cannot handle much wear and tear. This means that they have to be replaced often, which is not a great quality in bulbs.
The second problem with the Edison style bulb is that they naturally "burn out" very quickly. The filaments in these bulbs, like most incandescent bulbs, only last about 1000 hours. As such, unless they're used sparingly, they tend to need replacing fairly frequently.
If all this weren't enough, like all old school bulbs, they are incredibly energy inefficient generating way more heat than light for each watt of electricity they use. In fact, less than 10% of the energy you send to an old school Edison bulb is
Their inefficiency doesn't just adversely affect the environment, it also tends to make your electricity bills skyrocket – definitely not a good thing.
Now, however, there is a new contender in the lighting market that allows you to have your cake and eat it too - the Edison style LED bulbs with the vintage filament look, yet are completely LED.
What does this mean for the issues we talked about with older bulbs?
The Edison style LED bulbs retain the beautiful all glass enclosure but - LED bulbs generate a fraction of the heat using all solid state components which means that the bulbs are a lot more rugged than they look. Also, the vintage style Edison LED bulbs don't have filaments that heat up to produce light but instead use super tiny strings of dimmable warm white LEDs giving you both vintage looks and cool energy efficient performance.
Our Edison style LED bulbs come with a UL approved, Energy Star tested 30,000 hour lifespan. With all these advantages, you'll only have to install your LED lights once, and then simply enjoy them for a very long time.
When it comes to the environment and your utility bills, the Edison style LED bulbs have you covered because they deliver the beauty of the old school Edison look while remaining incredibly energy efficient using less than 80% of energy of the incandescent look alike.
No compromise
Now that you don't have to compromise on style, go ahead and get your home fitted out with pendant lights, chandeliers, and more! The Edison style LED bulbs have you covered, in more ways than one.