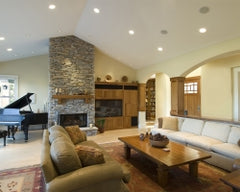 Polar Ray has been selling HALO LED LIGHTS for almost 7 years and their products have recently progressed into one of my favorite and bestselling LED lighting brands! One advantage that Halo LED lights offer is that have so many options for your remodel or new build. Some LED recessed lighting brands have a "one style fits all" approach but Halo LED lights come with all of these various features:
A variety of recessed LED recessed light sizes: 4" 5" 6"
Both standard downlights and gimbal (eyeball) downlights
A variety of brightness levels (lumen output)
A variety of white light choices from warm to cool (kelvin temp)
A variety of trim colors
A variety of beam spreads
High 90+ Color Rendering (on most models)
LED downlights to fit in recessed cans or surface mount on a J-box.
LED recessed lights that work with most common dimmers
Great reliability backed by a 5-year warranty
Affordable
All of these choices are nice to find in one major brand because no one LED recessed light is right for every application. Each room is different. For instance, a room with taller ceilings usually benefits from a brighter light and might need a narrower beam spread. Bedrooms might need warmer light than a kitchen. Living rooms and great rooms often have features like fireplaces, artwork, pianos or other decorative accents that benefit from the controlled light of a gimbal (eyeball) light that can be aimed toward the area of accent.
There are many fine brands of LED lights these days to choose from.  When shopping for the right LED light for your project, I recommend that you take a look at Halo recessed LED lights first since they might just have everything you need and simplify your shopping experience.  Polar Ray stocks a full lineup of Halo LED lights, ready to ship FREE same day (orders over $199).  Buy online or call us with your questions 888-494-5773. Click here to view all Halo LED products.