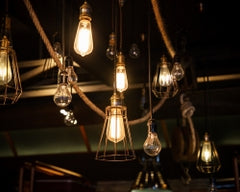 When it comes to decorating with LED vintage light bulbs, the old becomes the new. Everything, from the pendant lights to chandeliers, scores below these faux old lights. At first glance, these lights look like old style illumination. However, these LED "vintage" light bulbs are now everywhere, hanging from the ceiling of posh homes to businesses intent on creating a heritage look with none of the inefficient energy consumption. The popularity of such a lighting product is due to their twisted filaments. They have an indescribable visual appeal which modern bulbs cannot surpass.
The technology of these LED vintage bulbs is the same as standard LED lighting products. The actual distinction lies in the filament. The latter is tightly coiled in modern day incandescent bulbs whereas it is stretched to its limit in the faux vintage ones. The filament can also be twisted into a number of designs. The effect is pleasing to the eye and adds aesthetics to the room. It has the power to transform space around them with old-style warmth. There also remains a sliver of mystery. These aesthetics can be used in a number of ways to beautify your home.
Kitchen pleasures
Vintage bulbs evoke the age of steam engines and the world when the communication was done by rotary telephones. There is a flair which blends perfectly to vintage like pendant lighting. This makes the best accent piece over a kitchen table.
Bathroom fresh
LED vintage bulbs make perfect vanity lighting accessories. They will lend your bathroom that elusive Hollywood glamour. Their 'old style looks' put in the best look to any fixture. It works perfectly for the area where you take a bath in your bathtub.
As a chandelier
A vintage light can act as a bridge between two opposites. Modernist living spaces can be made much better with old style lighting. A middle of the century chandelier can be interspersed with LED Vintage lighting to make the space more interesting, more classic. It helps if the fixtures are made of modern material, like stainless steel. This adds another layer of depth.
A few house spaces like hallways are generally ignored in favor of more functional rooms. They can actually attract visitors to a hitherto unremarkable space. LED vintage lights look best with natural bronze finish fixtures. The result is a welcoming ambiance.